Branding a business is important, but in Japan the key to a good brand is apparently a camp soft pink bird-rabbit thingy.

StumbleUpon

Twitter

Tweet

Facebook
Everybody knows that the Japanese love cute mascots. What most don't realise though is just how deep this obsession runs. The picture below is of Nova Usagi, my company's mascot. This weird pink bunny/bird has big ears "So I can hear a lot" and a beak "So I can talk a lot". His favourite catchphrase is "Aren't I cool?" while maintaining a camp pose. Would you go to this company that this weird space rabbit recommended? I'm not sure I would. But clearly the Japanese love it; by all accounts 60% of clients choose Nova over other language schools precisely because of Usagi. When it was first released in limited numbers, a Nova Usagi stuffed toy fetched ¥100,000 on Ebay. ¥100,000!! That's £500! For a stuffed toy that's 3 months old!!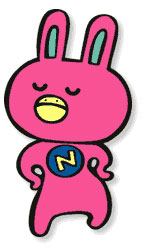 The largest bank in Japan is 16 Bank. Why is it the largest bank? In part because each branch has pictures of Tom and Jerry adorning it. A rival bank recently hit back with the cunning ploy of being represented by the Moomins. Seriously. Little Mae, Moomin Papa and the Snork Maiden sit happily inviting people to take out loans and open current accounts with them, as if you can rest assured that your hard earned money will be safe because it is in the hands of a cartoon character! Madness clearly, but the kind of cute endearing madness that seems to abound in Japan. If nothing else, it makes me grin regularly as I think what the British would think of this kind of thing. Imagine if Barclays all of a sudden dropped Samuel L. Jackson and replaced him with Basil Brush. – "Barclays Bank, Fluent in Finance. Booooom Boooooooom!!"
Update: Since I first wrote this, I have found out that my bank, UFJ, is represented by Snoopy and Woodstock. If I'd known, I could have asked for a themed bank card. Gutted.